Sushi House of Hoboken
155 1st St, Hoboken, NJ 07030
Order now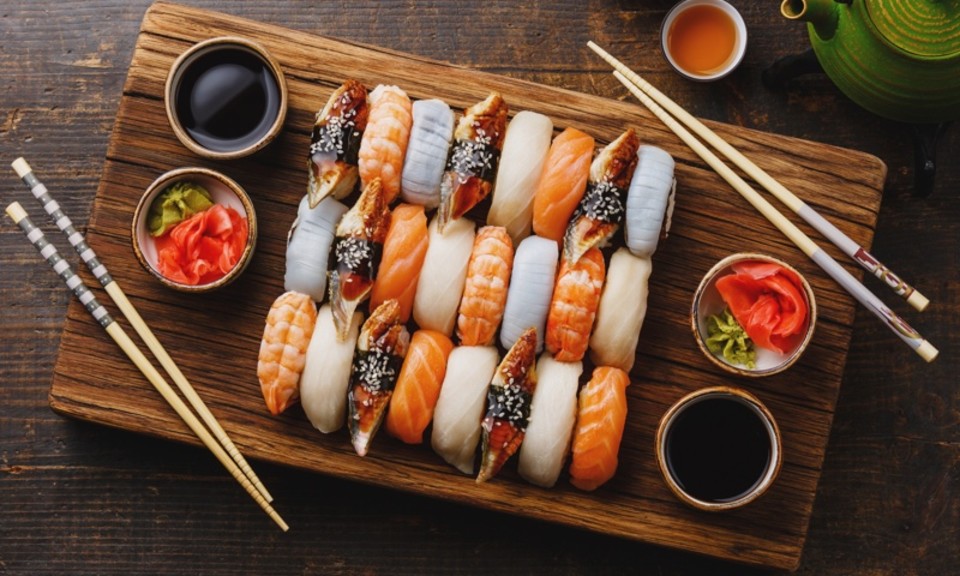 Elaine
Friendly crew service members, fast and accurate and the food has totally made friends with my picky taste buds. I ordered their appetizer "Gyoza" tonight for pick up which was pork dumplings, and now I feel like I would not last a week without it. I am definitely going to have more! And if you don't fancy eating pork, they offer a variety of DUMPLINGS! They got vegetable dumplings, chicken dumplings and wasabi, dumplings you choose. And when I picked up the order I made a fast to go order of the Tuna Tartar with mangoes (You should try it!) its spicy tuna (if im not mistaken) with chips (my first raw food) haha!

When I first visited the place, I tried their First Street roll which was a deep fried roll (because prior to finding this place, raw food is never on my vocabulary, so I chose to have something cooked) , Shrimp Tempura roll, and my all time favorite, their Uptown Roll. I checked out this place with friends one night and did not even regret any bits. All you have to do is to try and see it for yourself.

It was a little pricey for me but hey you can't buy an authentic Louis Vuitton for 5$. But let me tell you, they never disappoint! Will surely be coming back, thank you!
Jameson
There are 13 sushi restaurants in Hoboken and over the past 3 months, I've eaten food from all. I'm involved in nutrition so the quality of the food I eat is the primary reason for my favorite restaurants,

Tonight I had food from Sushi House and I must say it has now moved to the top of my sushi choices. The sushi was extremely fresh, better than any others and the service was excellent.

The staff is very friendly and courteous and cares greatly about their quality and total customer satisfaction. It shows in everything they do.

The biggest complement of all? Many local shop or bar owners eat here on a regular basis and after my experience, it's easy to see why.

So when nothing but the best will do, I suggest making Sushi House your top choice.

It is the best sushi I've had in Hoboken but don't just take my word, try it for yourself and I'm sure you'll agree.

5 stars for sure. I'll be going back soon!
Grace
Calling the attention of Grubhub to make my 5 star rating for this restaurant to 100! This place deserves it! Kudos to all the staff, including the chefs and servers for making my experience great!

The best thing about this place is, if you can't find your "dream" sushi roll, you can have it customized with anything you want just tell the sushi chef and they'll make if for you then name it after yourself (haha!) Thank you Sushi House!! Will definitely come back!
Maria
If I could give tb
his p lace more than five stars, I would. The ambiance, the servers and their warm and welcoming smiles plus their food is what makes this place THE BOMB! I suggest you order their first street roll which I looooooveee! This roll is a deep fried Salmon, Tuna and yellowtail, YUM!! Their baby octopus appetizer is to die for! You guys should try it and give your little tongue a taste of great food. Treat yourself.
Susan
The first time I ordered, the delivery was over an hour late. However, the sushi was so good, I ordered it again the next night and again tonight, about two weeks later. I ordered the Tokyo roll and the Volcano roll - always with an edemame appetizer. The edemame is standard, but the sushi is absolutely wonderful and I highly recommend this restaurant.
Renita
I got the Dynamite Seabass with Crab Meat and California Rolls. At first I was like..is that all? For $21?.....But when I tasted it and ate it all..:))) It was wonderful:) It really hit the spot. I will order it again. Thanks Sushi House:)
Dorian
Felt bad I ordered late but delivery came quick and delivery person had a huge smile on his face so didnt feel bad after all. Food was delicious. Thanks!!
Steffi
made to perfection! some of the best sushi I've had in a while. I live in jersey city and it was delivered fast too! will def reorder from there
Estefania
Sushi house is always an amazing choice! Their sushi is fresh and delicious and if you actually go to the restaurant they have byob .
Stephen
Delicious sushi. Heavy on the American-style sauces, and one specialty roll will be enough per person, but good fish!
About us
Asian, Dinner, Japanese, Lunch Specials, Sushi
Today

Delivery: 11:00 AM - 11:00 PM

Takeout: 11:00 AM - 11:00 PM

Delivery

Monday:

11:00 AM - 11:00 PM

Tuesday:

11:00 AM - 11:00 PM

Wednesday:

11:00 AM - 11:00 PM

Thursday:

11:00 AM - 11:00 PM

Friday:

11:00 AM - 11:55 PM

Saturday:

12:00 PM - 11:55 PM

Sunday:

12:00 PM - 11:00 PM

Takeout

Monday:

11:00 AM - 11:00 PM

Tuesday:

11:00 AM - 11:00 PM

Wednesday:

11:00 AM - 11:00 PM

Thursday:

11:00 AM - 11:00 PM

Friday:

11:00 AM - 11:55 PM

Saturday:

12:00 PM - 11:55 PM

Sunday:

12:00 PM - 11:00 PM